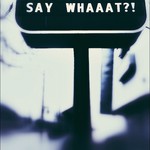 Times they are a'changin. More like times have changed, and they've BEEN changin. When I graduated from highschool the whole technological, digitized social media thing was like the mysterious new kid in town. Everyone was talking about it, but no one knew what it was capable of yet. There was no Facebook (in fact not even Myspace was around yet), no Twitter, SoundCloud, no one knew what an "app" was, not even YouTube had been invented. Iphones were still just a scary lookin' embryo in Steve Jobs' brain. Hell, I didn't even get a cellphone til I was 23 and then it was only because I had been badgered by my friends and family to join in on the fun. I was behind the times on that one, sure, but it wasn't half as unheard of as it would be nowadays. Nowadays every person, their second grader and their dog has a cellphone.
One's gotta roll with the digital punch to stay relevant. It's a matter of adapting, and for a musician, a matter of life and death as far as getting "out there" is concerned. The world of possibilities is ever-present, constantly expanding and updating itself. Updating equals upgrading. It used to be that if you didn't get pressed copies of your product to sell and/or distribute, no one ever heard it. Now all you need to do is click click click and its written with blood on a global database, accessible to everyone and anyone that knows how to work a computer. Damn have times changed. It's a new reach-the- world attitude and it's yours. For free.
With that said, check out a brand new track featuring myself, Trev Fox, and Mike Decline on the beat. Together, we're The Say What Rights, and the track is GOLD SWORD CANE.
http://soundcloud.com/the-say-what-rights/gold-sword-cane-the-say-what