Something is moving, something is stirring, something is breaking through after being hidden for quite some time…and I dig it. Things seem to have a momentum right now that I'm loving, and action begets more action so I'm determined to keep it going.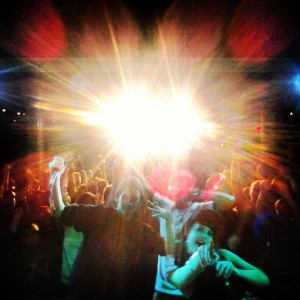 Last week was truly a joyful one, I had the honour of sharing the opening spot for the Grouch and Eligh show at Fortune Sound Club, along with some of my musical fam, A-Ro, Kapok, and Claire Mortifee. These souls are not only dear friends of mine but are talented BEYOND the typical realm and are truly standouts not only locally but on a global level.
I did a couple of collab songs with Kapok (so we were 2/3′s of our past trio, Indigo Kids) and I must say it is one of the most, if not THE most enjoyable experiences I've had on stage to date. The crowd was hype and gave SO much love and so much support. I could feel it. You hear musicians talk about thriving from the crowd's energy- this was a perfect example of that for me and it was maybe the first time I had pulled that kind of positive response from any crowd before. As hip hop has been predominately a genre jam packed fulla blokes, I think people are excited to see a female up there (red lipstick and all) that can hold her own.
Truly such a blessing to share the stage with family and to get such a sought after opening spot- GROUCH n ELIGH?! I've been listening to and loving their music since high school. The mere sound of their voices was so comforting and nostalgic- and even after being a fan for 15 years I'd still never seen ANY of the Living Legends live before so it certainly made history that night for me and for probably everyone else too. Their set was off the hook- slick as hell. The sound was CRYSTAL clear and absolutely bangin which Grouch even commented on at one point- "you guys are sure lucky you have a sound system like this in your city"…. the crowd continued to lose their minds for the remainder of the night, and there was an energy in the room all night that could be described only as LOVE. All in all, a blazing success for everyone involved.
Thank you to everyone and anyone that was there and made that night possible. Definitely one for the archives!! <3