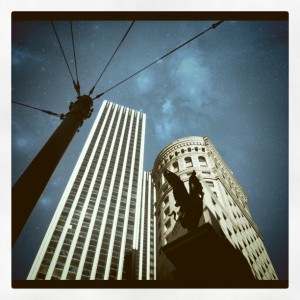 Painted on the crown molding of my hotel room was a quote by some anonymous person that said "If you get tired from walking around San Francisco you can always lean against it". I thought that was pretty fitting given the place is like one big city-sized roller coaster and walking around it constantly  means you're probably always a little exhausted and/or probably have an ass that's carved out of wood.
The visit only lasted for three short days since I was there for a wedding, but three days were all I needed to fall in love with San Francisco. It was like a really good romantic movie where the people fall in love with eachother SO fast and it's kind of unrealistic but you GET IT because either one or both of them is just so damn charming and beautiful.
San Fran has those things in spades.  Everywhere I looked the scene was aesthetically pleasing.  The fact it's so hilly is a blessing. You can actually see the city, the hills display it like a showroom.  Different coloured apartment buildings with bay windows and old fire escapes, the financial district with its giant towers, most of them edged with rich and intricate stone work.  There is so much history and weight to the space, the city has a magic to it.  Art deco was something I kept coming across, and the architecture was incredible. Every time I looked up I was struck at the pleasing angles and arches. Pretty amazing for a city  that burned to the ground once upon a time.
Any time I'm in a new place (yes, I'd been there once before when I was 7 but all I remember is getting my picture taken under a giant shark and getting a toy from FAO Shwartz so it doesn't count), I get filled with a joy that is so palpable I feel it in my whole body. Something in me just wants to jump out of itself and I end thanking the Universe pretty consistantly the whole time I'm there.
I definitely needed more time, it's a place you need to explore. There are so many different areas and neighbourhoods, all tied together by this funky, artsy charm.  The San Francisco Giants won the world series the night I left, go figure!  I even rode the trolley like they do in the movies and I grinned like a goon the whole time.
Until we meet again, San Francisco.